PNW YP Summit Speakers Announced!
Register now for the 2018 Pacific Northwest Student and Young Professionals Summit.
We are excited to announce a phenomenal line-up of speakers covering topics on technical material and professional development as it relates to this year's theme: Innovation.
We will kick off the day with opening remarks from PNCWA leadership, followed by a speed networking activity designed to connect Summit attendees. The morning session will then shift into a two-hour career goal development workshop with Erin Mosley, titled Career Roadmapping: Create Your Next Success. Erin is a licensed civil engineer who has served as Vice President and Global Director of CH2M and a past board member of both the Water Environment Federation and New England Water Environment Association.
After a 1-hour networking lunch, Chris McCalib with Treatment Equipment Company (TEC) will share his 20+ years of industry experience in a presentation on innovative technologies for wastewater reuse applications. Following Chris, presentations will shift to a panel discussion titled Innovation for Your Career. The panel will feature industry leaders from across the Northwest engaging in dialogue about how to shape your career, focusing on topics such as risk-taking, vulnerability, perseverance, and boundaries.
Following the panel discussion, Mark Jockers, Government and Public Affairs Manager, and Mark Poling, Business Operations Director, of Clean Water Services will share the story of ONE WATER, a pint at a time – What five years of brewing (and drinking) beer made from wastewater has taught us about the language of water. The day will then wrap up with closing remarks from PNCWA leadership and an on-site networking happy hour, where attendees will be able to sample Clean Water Services' Pure Water Brew!
This year's Summit will be hosted at the Water Resource Education Center in Vancouver, Washington. Doors open at 8:30 AM, and the event starts at 9:00 AM. You can register online at www.pncwa.org/ypsummit2018-register; Registration includes lunch. Following the program, attendees are invited to a hosted reception, courtesy the event Sponsors.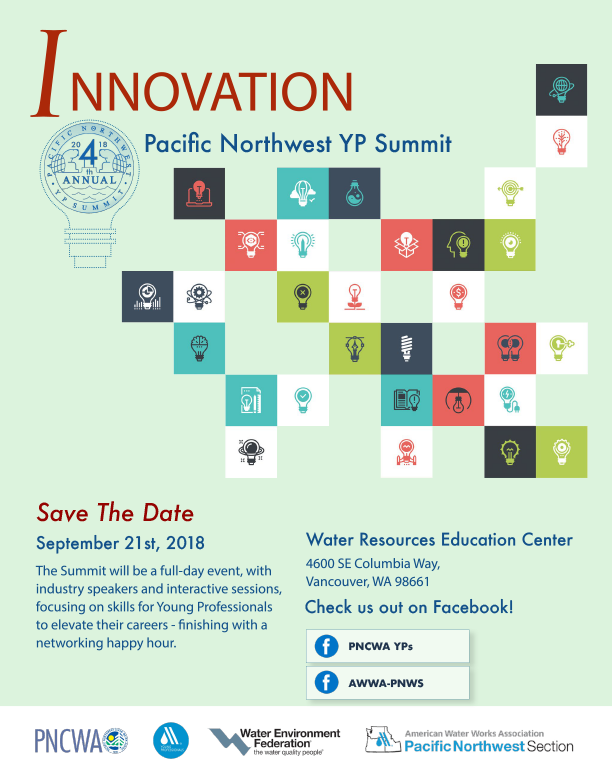 Please contact Casey Gish ([email protected]) with questions.
Share this post: