PNCWA: Racial and Social Justice Initiatives
The PNCWA board issued a statement last week calling on PNCWA members to "commit time to be educated, to increase your understanding, and to promote ideas and programs that eliminate structural racism in our organization, region, and the communities we serve."  In follow up to that message, here are some actions that PNCWA has been and will continue to take promote diversity and social and racial justice.

Our Members Services Committee has a goal for the PNCWA membership and the water industry to represent the communities we serve. We recognize that overall, the water industry lacks racial and gender diversity that truly mimics and represents our communities and we want to change that. At our 2019 PNCWA conference in Portland, 13% of attendees were people of color (PNCWA conference Survey data) compared to the population of Oregon, which is composed of 25% people of color (US census data). Similarly, less than 20% of the conference attendees were women. We strive to increase the diversity of both our membership and our leadership. We have therefore developed a goal to increase diversity in membership by 2025 with a targets to increase membership of women, people of color, and young professionals.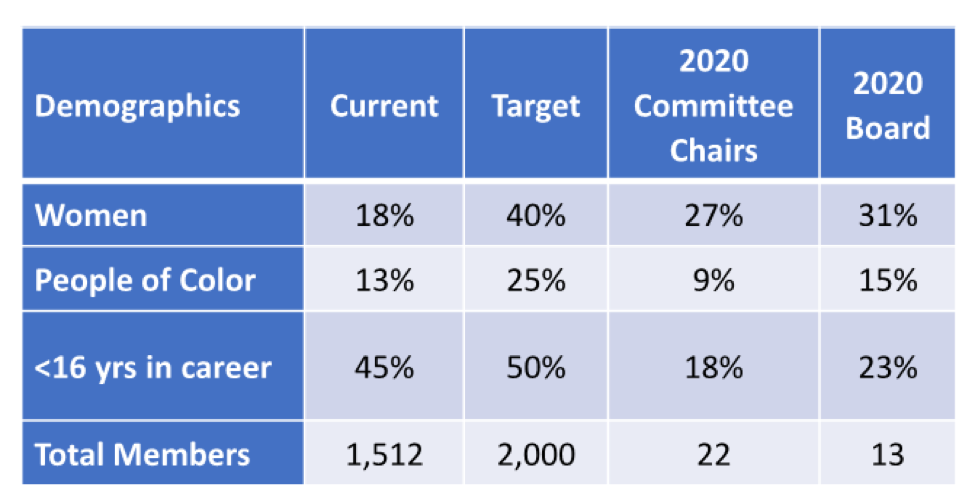 Table 1: PNCWA current and target demographics. Target demographics are defined for new joining members.
In addition, we have taken the following actions to encourage diversity in our membership and leadership:
PNCWA is developing a Diversity, Equity, and Inclusion Policy that we will seek membership input on. 
PNCWA will continue to offer the conference leadership track, which includes DEI material.
The Member Services Committee has challenged our leadership to strive to reflect the same target demographic goals we have set for new membership.
Formation of a Racial and Social Justice Subcommittee to the Member Services Committee
InFLOW program: In 2019, PNCWA launched a program called InFLOW (Introducing Future Leaders to Opportunities in Water), an initiative that strives to identify students and young professionals from underrepresented groups who are interested in careers in the water industry. In 2020, this initiative continues to identify and introduce students and young professionals from underrepresented demographics to careers in the water industry. The program engages these groups in the form of a sponsorship to attend the PNCWA 2020 Annual Conference. 
Scholarship program: The PNCWA Scholarship Committee supports students in pursuing a professional career in the water quality field by awarding scholarships on an annual basis. Award recipients also receive complimentary membership in PNCWA and WEF and are invited to attend the PNCWA Annual Conference in the fall of the year.
How you can get involved:
The InFLOW program needs volunteers at conference to help facilitate the program. If you are interested, please reach out to Sam Hawkinson at

[email protected]

. Applications have already closed for this year, but we need help getting the information about this program out, we are looking forward to more participants at the 2021 conference. Here is a link to the application: https://pncwa.app.box.com/s/jreauob58439jvqhcq8u0ss4p9vi3j8a.  
Create an inclusive culture at PNCWA through personal education and collective discussions on race and gender equity.
Attend the Leadership Track at the 2020 PNCWA conference to better educate yourself on equity and inclusion.
Join one of our committees to learn, to help educate our membership, and to advocate for change. In all aspects of our industry, we are hoping to widen our "lens" and see how our work needs to incorporate diversity, equity, and inclusion.
Volunteer to be a part of the new Racial and Social Justice Subcommittee.
Help us recruit and mentor new members: https://www.pncwa.org/become-a-member.
Help recruit applicants from underrepresented groups to the scholarship program, information can be found here: https://www.pncwa.org/scholarship.
Are we doing enough? The answer is no. We need your help to achieve our goals. Please educate yourself, get involved with our committees, provide feedback and program ideas on how we can fill these gaps of inequality, and help us create an inclusive culture. We look forward to hearing from you on what else we can do!
Share this post: